Total Quality
A Culture of Quality And Food Safety
Quality
We know that the only way to consistently deliver high-quality beef is to implement a total quality approach from ranch to table. Therefore, we work hard to only include cattle in our programs that have the potential to consistently produce high-quality grades. After the cattle spend much of their lives grazing pastureland, they will transition to a well-balanced diet of Northwest ingredients.
We carefully craft the cattle's diets to include wheat, corn, potatoes, hay, and vitamins and minerals. These balanced diets help our cattle thrive and deposit the intramuscular marbling that makes our beef so flavorful and juicy. Healthy, content cattle create safe and healthy beef. Therefore, we implement a comprehensive cattle health program to supplement the care the cattle already receive.
All our efforts from the ranch to the processing plant have helped us improve our USDA Quality Grade over the years. We have increased our Choice quality grade from 63% in 2009 to 80% in 2015. Our beef grading Prime, the highest UDSA quality grade, has increased from 1% to 6% in the same time frame.
Food Safety
At Agri Beef, we recognize our products are enjoyed by families all over the world, families like our own. So for us, the issue of food safety has always been a personal one. It's what drives us to deliver exceptional Northwest beef that is unquestionably wholesome by incorporating the most advanced food safety protocols in the industry. When you serve our beef and pork to your family, friends and guests, you can do so with confidence—just as we do.
Over the past 3 years, we have invested over $12 million in food safety alone. Here are just a few of the measures we take:
We perform over 24 food safety interventions at our Washington Beef processing facility
We dedicate a full 8-hour shift every day solely for cleaning our Washington Beef facility
We source the highest quality cattle from Northwest ranches
We feed nutritionally balanced diets of forages, grains, and local renewable feeds, such as potatoes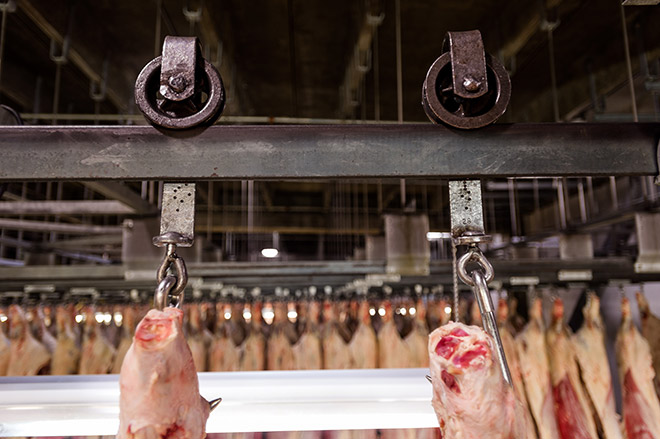 More about food safety
Quality control measures are built into every aspect of our Washington Beef processing plant. SQF Food Safety standards are strictly enforced and serve as the foundation of the operation's best management practices. In being certified to the SQF Edition 8.0 standard, we are recognized by GFSI as being compliant with their standards through a successful third party audit. GFSI is a globally recognized standard for food safety systems.Our Hazard Analysis Critical Control Point (HACCP) program ensures that food safety is always the top priority. Our facility is federally inspected by the United States Department of Agriculture (USDA), and all critical control points are closely monitored to ensure all products have been safely processed.